The 7 Key Factors Driving Small-Cap Oil and Gas Valuations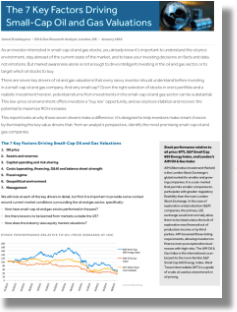 The historic lows of oil prices over the past year have taken small-cap oil and gas valuations down along with them. But we know that the oil price pendulum always swings back. The question is when, and when it does, will our investments be well positioned to take advantage of the price turnaround?
As prices and valuations begin to creep back up, now is the time to look for opportunities in the oil and gas sector.
To take advantage of this unique and challenging investing environment, TAG Oil commissioned UK-based analyst Jamal Orazbayeva to author an independent, objective,  report: The 7 Key Factors Driving Small-Cap Oil and Gas Valuations. She had free rein, and produced a thoughtful, thorough, informative, 24-page report that TAG is offering to its readers.  Get the report here >